The natural beauty of Mt. Iwaki can be enjoyed in many ways – some more relaxing than others! One of these foolproof relaxing methods is a trip to one of the many onsen in the area.
Iwaki-sou onsen
is a choice you can't go wrong with. Situated in the picturesque hotel of the same name, the onsen boasts both outdoor and indoor baths. The outdoor baths are especially idyllic – there's nothing quite like listening to leaves rustle and birds warble while you let the worries of daily life soak away.
If you can stave off the urge for a post-
onsen
nap, there is a beautiful Shinto shrine just down the road. While all of Mt. Iwaki is technically sacred ground,
Iwaki-yama Shrine
is the site of worship. Most of the main buildings date to about 1694. The shrine itself stretches back up the side of the mountain, deeper into the forest. It makes a great walk! And if you're lucky, you will run into the friendly obaasan selling apple ice cream, yum!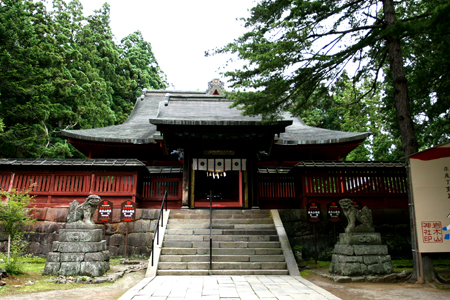 The Skinny:
A relaxing day trip - quiet soak in a refined onsen, followed by a stroll through the grounds of a tranquil shrine.
Price:

Iwaki-sou onsen is 500¥, plus 100¥ for optional towel rental. Admission to Iwaki-yama Shrine is free.
Directions:

Click here for a road map, starting from Jusco in Kashiwa!